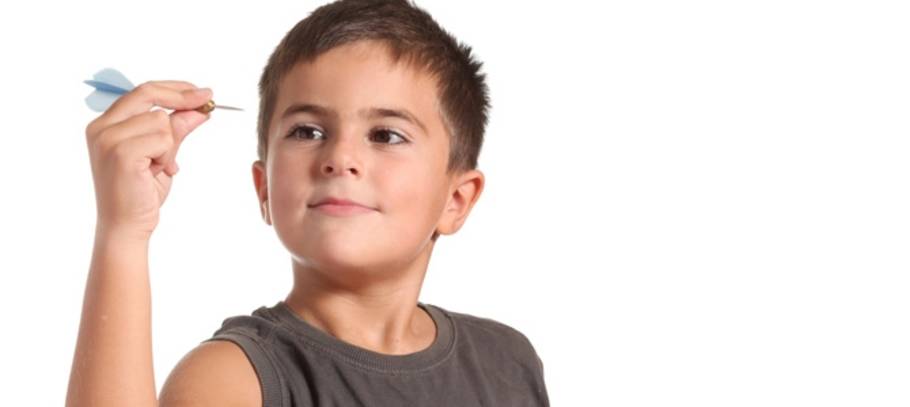 …it all started a couple of weeks ago when I'd had a hard day at work – I blew a fuse after tripping over my son's ten pin bowling set, which was lying on the floor. Once I calmed down, I realised that a great solution to a stress-free kids home was probably to allocate one special room where they could do what they want – separate from sleeping quarters, of course. (A bedroom should be a place of rest, not crazy antics!)
Once the kids and I got creative though, we came up with what could only be described as our DREAM games room! Here are some ideas to get you started on your own:
1. Put a darts board on the wall
This makes the games room look really authentic and fun, which adds to the atmosphere whether you actually play the game or not. Safe, junior versions of darts for kids are available, as well as the traditional boards that are suited to older children.
2. Put a fussball or ping pong table in the room
Again, this is excellent for making the room seem exciting, plus of course fussball and table tennis are great kids activities! Fairly low cost versions of these games are available from many department stores now.
3. Ensure there's some floor space too
Going back to the original event that inspired me - (ten pin bowling for kids, courtesy of my son!) it's important to remember that games are invented by your little ones every minute, and they need space to do it in! It's no good crowding your dream games room with lots of gadgets which are never touched. Lots of floor space is ideal – the above are intended only if there is room left over after this!
4. Colours, couches, cool tunes…and more
There's no end to the list of wonderful touches you can put on your kid's dream games room. Bright colours will help with atmosphere and motivation to be active, while a couch provides a resting area, where your kids can spend time with their friends (and you!) in a relaxed way. A stereo with their favourite music is great too….sit down with your youngsters and come up with your own list! Even the planning is great family time spent together.
Tripping over your kid's toys can be a thing of the past, and they'll have more fun than ever before with their own games room! Check the ActiveActivities directory for lots more ideas for games and activities you can add to the fun.
Lauren Reeves
Lauren has two very excitable school age kids, as well as a full time corporate career. She manages to juggle the two roles and (mostly) maintain her sanity with the help of her ever-supportive partner. Lauren particularly loves cycling, as well as taking nourishing breaks in quieter parts of New Zealand. She lives with her family in Auckland and began blogging for ActiveActivities recently.