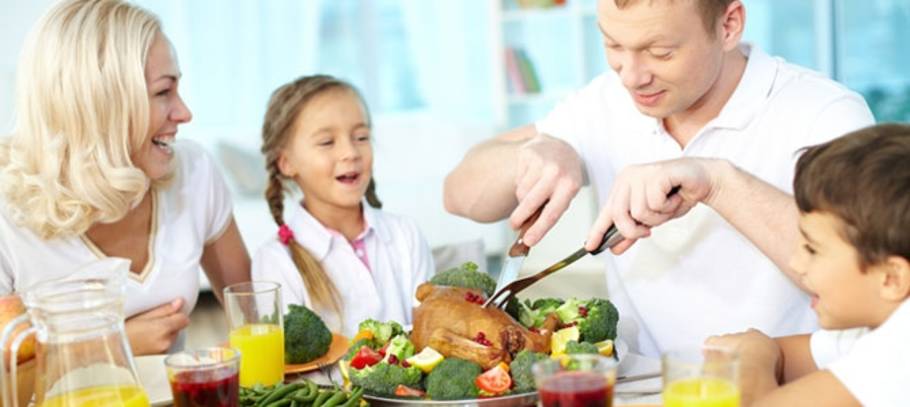 It's that time of the year again - end of year festive party season! Like my family, I am sure you've already started receiving end of year Christmas party invites from family, friends and work. This is also the season to pile on the 'Christmas weight'. Who could resists that extra glass of wine and second serving of Christmas pudding? With all the sweet temptations around this time of the year, parents should also keep an eye on their kids' food intake at Christmas gatherings and parties.
Here are a few handy tips to keep your kids from over indulging this festive season:
Don't neglect the party drinks!
With all the fuss over the party food, it's sometimes easy to neglect the amount of sugar your kids consume throughout the party. Replace the traditional soft drinks with different fresh juice options and serve healthier version of 'soda' by mixing 100% fruit juice with club soda.

Set a no fast food rule for guests
For those of you hosting christmas parties and require guests to bring food, set a no fast food and junk food rule. As busy parents, we understand that it takes more effort into planning healthier food options. To make your guest's job easier, give them a list of options to choose from when you send out the Christmas invite.

If you're looking for invitation and card options, head over to our directory for a listing of local invitation and card suppliers for kids.

Indulge moderately
No one likes a party pooper. Instead of laying down harsh rules on your kids to avoid certain type of food at the party, try to moderate what they eat instead. You want your kids to get into the Christmas spirit and have a good time so it is fine to let them have a piece of Christmas pudding, some ice-cream and soda, as long as it's all taken with moderation.

Be creative with your menu
There's no point putting all your effort into devising a stand-out healthy menu, only to find more than half the food still there at the end of the night. The key to winning kids' hearts with healthy food choice is to make them fun and tasty.

Need some help coming up with that special dish? Get some inspiration for catering and cakes for kids from our directory.

Lastly, don't forget to just let your kids have fun and enjoy themselves. Our kids activities directory can help you with finding the right party games for kids to put the young ones into festive mode!
Lauren Reeves
Lauren has two very excitable school age kids, as well as a full time corporate career. She manages to juggle the two roles and (mostly) maintain her sanity with the help of her ever-supportive partner. Lauren particularly loves cycling, as well as taking nourishing breaks in quieter parts of New Zealand. She lives with her family in Auckland and began blogging for ActiveActivities recently.