The Importance of Creative Arts for Children and Teens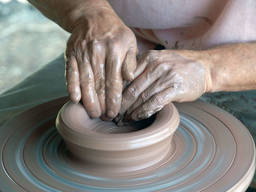 Teaching children about art is a good idea. It's been proven that early exposure to visual art, music, or drama promotes activity in the brain.

Creating art is a fine way for children to make choices and solve problems. Every step involves making a decision: what colour to use, how to make a line, what size something should be. With every choice the object becomes more and more their own.

Art helps children understand other subjects much more clearly—from maths and science, to language, arts and geography.
Everyone has an imagination. Art takes it a step further. Through art, children create something that, until that point, was only imagined. Thus, they create visual manifestations of abstract ideas.
Art nurtures inventiveness as it engages children in a process that aids in the development of self-esteem, self-discipline, cooperation, and self-motivation.

Participating in art activities helps children to gain the tools necessary for understanding human experience, adapting to and respecting others' ways of working and thinking, developing creative problem-solving skills, and communicating thoughts and ideas in a variety of ways.

Children who may be having difficulties in other parts of the school curriculum may find an expressive outlet through art. It's a way to uncover talent that may not be seen otherwise. Art is a means of communicating ideas, feelings, and solutions in a way other than verbally or written.

Teaching children about art is not just about showing them how to recognize a van Gogh or Picasso; it's about preparing young minds for a future of invaluable experiences, art related or otherwise. In our quest to gain knowledge on a subject we often buy books and hope that it will bring something magical to our experience. Books can make a difference, but when children use their hands they are using there brain.
Articles related to your search: