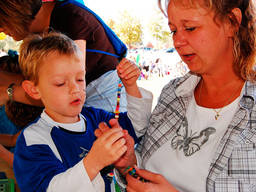 Do fun shapes and vibrant colors attract your kids? If the answer's yes, Beading is an excellent leisure activity that your kids should definitely try! Today, Beadwork as a kids craft is considered to be one of the latest trends in New Zealand because of its inspired jewellry charms pieced together to produce various jewellry crafts, purses and other different things. Beading offers colorful projects that your kids can enjoy that will also make way for their creative sides to shine. Put more charm in your kids' daily activities by keeping them relaxed and creative through beading!
Category:Arts & Crafts
Approximate age to start beading:4
Approximate price: $50-$140 per class
Gear/equipment needed and approximate price range: Pliers: $18-$25, Wire cutters: $8-$15, Scissors: $10-$20, Glue: $5-$15, Memory wire (1000g): $5-$10, Beads: $1-$50
This activity comprises of:jewellery making, beading projects, beading activities, jewellry crafts
Best period of the year: summer
Most appropriate region:anywhere in New Zealand
School holiday programs available: YES
A video of Beading for kids
A step-by-step video tutorial on how to make a beaded dragonfly/butterfly
Information on Beading for Kids
Will your kids enjoy beading activities?
Beading is only one of the kids' activities that offer a fresh and fun way to get children creative. It is an activity with easy-to-follow beading techniques that will help your kids master the handcraft of jewellery making. Immersing your kids in different kinds of beading projects, will also expand their capabilities in beadwork. Children can bead necklaces, bead bracelets using vast jewellery designs.
Beading is one of the best activities for kids and contrary to popular belief, beading is not only limited to jewelry making for girls. Beading for boys is actually a great way for boys to create things other than handmade jewellery. Beading activities can extend to making coasters, pins, wall hangings or even simple sculptures! More than that, beading suits all ages, from toddlers to parents- all because it allows children to personalize their work starting from the designs, bead sizes, bead colors and which materials to use! It can extend from glass beads, plastic beads, alphabet beads, seed beads, pony beads to pandora beads, making beautiful pandora jewellery. It promotes variation and allows construction of simple to complex projects with the use of specialized tools and equipment.
It's not just about handmade jewellry either - there are also plenty of developmental benefits of beading for your children promoting development in several key areas:
Motor skills – bead craft entails a lot of in-hand manipulation skills and grasping that are beneficial to your kids' strength and coordination. Beads that range from big to small then rendering that into various shifting and rotation movements can practice the hand and finger muscles of your child.
Visual Perceptual Skills – Beadwork entails a lot of beading patterns depending on which beads your kids use. In creating such projects, the child's mental projection of their output can be translated to their choice of beads that best fits their beading ideas. This will allow them to scan across various beads and choosing the perfect fit.
Cognitive Skills – Choosing the style, patterns and materials to use in their project will develop his/her planning and problem-solving skills.
Overall beading as an arts and crafts activity for kids is a great way to promote self-expression and sense of self-fulfillment. It can further improve your kid's self-esteem when they are successful in completing a project.
Get your kids involved in beading!
Beading will pave the way for your kids to create fabulous pieces. With a step-by-step process and easy-to-follow instructions, your kids will surely enjoy this beautiful, quirky craft! There are plenty of beading activities for kids you can start organizing on your own. Birthday parties are a great way to introduce beading to kids. If you want them to get started right away at home, you can simply purchase your own beading supplies in different bead shops that your children will need to start:
memory wire
beading
scissors
bead mat
beading books
beads
If you're all set in introducing beading to your children, it is always helpful to keep in mind that it is best to introduce it when they're past putting everything in their mouth. From then on it might become a favourite school holiday activity! You can start by choosing the types of bead for them to use. It's always safe to start with pony beads which are large plastic beads with large holes. Let them start with simple patterns with easy instructions. As they get older, you can start introducing them to seed beads which are much tinier beads that will require finer motor skills and more patience to use. But don't worry, this can develop their confidence and perseverance along the way in beadwork.
Beading is a wonderful journey to take on with your kids because there are many great resource on the market that already offers a wide array of beading supplies, different styles and different patterns! Make it a fun activity for your kids and be amazed at what they can produce! Check out our ActiveActivities directory for more information on Beading for kids!