Jewellery Making Activities for Kids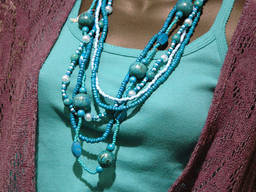 Jewellery making is a great kids' party activity.
Kids can create their own earrings, necklaces, and bracelets for an arts and crafts activity with a twist!
A video of Jewellery Making Activities for Kids
This tutorial will give you practical tips for hosting your very own kids' jewellery making party!
Information on jewellery making activities for kids in new zealand
Is jewellery making right for your next kids' party?
Do your children like to design and make things with their hands? Give them a chance to express their creativity by arranging jewellery making activities for their next party. If your kids like to play around with beads and paper, they might enjoy making rings, decorative pins, and other fun wearable creations.
As jewellery making requires a certain amount of focus, it is best for kids who can sit still and concentrate for long periods of time. Very young children and those who are more active might prefer more lively kids' activities.
Although generally considered a girls' activity, jewellery making can appeal to boy too. Jewellery making is a great way to:
Develop fine motor skills
Get creative
Spark the imagination
Make friends and socialise
As with many activities for kids, adult supervision is essential when kids are making jewellery, particularly if there are sharp tools being used. Also keep an eye on babies as beads and other small items could be a choking hazard if swallowed.
How to organise a jewellery making party
Want to give jewellery making a try at your next kids' party? There are a few options available:
Hold the party at a studio - a teacher can organize and guide children in a few projects for one or two hours. All equipment should be provided. Costs vary, but you can expect to pay upwards of $35 per child.
Hire a professional jewellery maker - A teacher will visit your home, bring all the equipment, and show your children how to make different items. Costs vary, but should be around $20 to $35 per child for a one or two hour session.
Host and run your own jewellery making session - there are jewellery making guides online and you can purchase beads and other equipment at your local craft store. It may be difficult to find some specialist equipment, but a proper bead or hardware store should be able to help you.
Whatever you choose, having a jewellery making party will give your children and their friends a fun day and some fabulous new accessories!