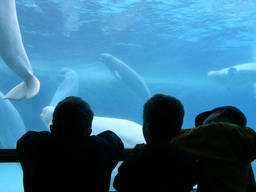 If your kids need a bit of soothing without running the risk of boredom setting in, why not take them to the local aquarium? An aquarium is a transparent container filled with water which contains fish or other marine life for people to observe. Most public aquariums have a number of different tanks which house a wide range of species of fish and aquatic plants.
Information on aquariums for kids in new zealand
Will Your Kids Enjoy a Visit to an Aquarium?
For an educational day out and a memorable experience, an aquarium is a fascinating place to go. Visiting an aquarium is a great kids' activity and gives your children the opportunity to learn about tropical fish, reef fish, saltwater fish and aquatic mammals such as dolphins. A number of aquariums also have the option to walk through shark tanks which can add an element of excitement and adventure to the experience.
Kids can also have fun learning about marine plant life and how to grow them, as well as their uses for medicinal purposes and as fertilizer.
Aquariums suit kids who are interested in fish and marine animals and want to learn more about native sea life. Many aquariums offer a number of other activities for kids including swimming with sharks or dolphins, fish feeding and interactive pools where kids can touch starfish and observe fish more closely.
Aquariums are perfect for kids of any age - even very young babies can become entranced by the fish swimming past and may stare at them in fascination. Visiting an aquarium can be fun and relaxing for the whole family.
Most large aquariums offer guided tours and educational talks, souvenir shops, cafes and baby change facilities.
How to Organise a Visit to an Aquarium with Your Kids
Most aquariums are open all year round but they can get exceptionally busy during school holidays. The most well known aquariums in New Zealand are the National Aquarium of New Zealand, and the Southern Encounter Aquarium & Kiwi House.
The cost of entry to a large aquarium is usually around $20 for adults and $10 for children. Family discounts and online specials are also available. You can get a good deal by purchasing entry to the aquarium alongside entry to an affiliated theme park or other facility.
Check the ActiveActivities directory for more information!
Generally, you'll be asked not to bring outside food into an aquarium and it's also important to supervise your children while you are inside. Get there early during busy periods to avoid the worst of the crowds.