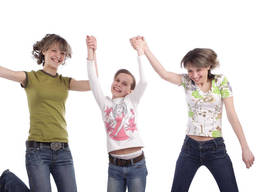 Looking for a kids' party activity that's fun for the kids and easy for you?
Dance parties are guaranteed to tire your kids and their friends out - but not before they've had a huge amount of fun!
A video of Dance Parties for Kids
After watching these kids having fun doing the chicken dance, your kids will want to have their own dance party!
Information on dance parties for kids in new zealand
Is a dance party right for your next kids' party?
Do your children love kids' activities that incorporate plenty of movement and music? Then they will love a dance party for their birthday! Kids dance parties are great for confident kids who don't mind a lot of noise. Dance parties provide kids with the opportunity to burn off energy while having fun and improving their dance skills. Other benefits of dance parties include:
Improvement of co-ordination and motor skills, including balance and rhythm
Opportunity for social interaction
Improvement of fitness and cardiovascular health
Lots of fun!
Even very young children can enjoy dance parties, particularly with an entertainer or teacher to help them learn the moves. Add a theme or costumes and you can help promote creativity and imagination too! Girls are usually more inclined towards dancing than boys, but some types of hip hop or street dance can be appealing to both genders.
Are you considering hosting a dance party event? Make sure you have enough space for your dancers to move freely without tripping over furniture or each other, a good sound system, and plenty of music.
How to organise a dance party
A dance party doesn't have to be a huge event: just find some music your child likes, put on the stereo, and let your little guests dance the afternoon away. Dancing can also be incorporated into kids games such as musical statues and musical chairs.
Professional kids' entertainers and dance instructors can be found online or at your local dance academy. They will generally charge around $125 an hour for parties. Some child play centres and dance schools also host parties which might be an alternative if space is a bit limited.
What are you waiting for? Clear the furniture out of the way, crank up the stereo, and let your kids boogie the day away!