Karaoke Parties and Activities for Kids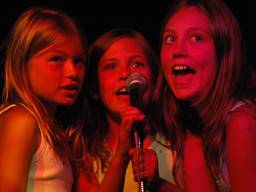 Karaoke parties can be a great way for your kids to indulge their pop star fantasies and sing along to their favourite songs.
With backing vocals and lyrics provided, all your child needs is an audience!
Information on karaoke parties and activities for kids in new zealand
Is a karaoke party right for your kids?
If your child loves to sing and perform, why not give them the opportunity to strut their stuff with a karaoke party?
Karaoke is a great kids' activity, for outgoing and music-loving children. Extroverted children will enjoy singing their favourite songs with their friends and family, while less outgoing kids will have fun listening to their favourite songs and being part of an audience. Karaoke parties are a great entertainment option because they are:
Fun
Great singing practice
An excellent introduction to music for little ones
A boost to your child's self-esteem
Perfect for improving your kids' social skills
Karaoke parties are best for kids aged six and up, as children need to be able to read at a fairly proficient level to be able to follow the lyrics on the tv screen. Parental supervision is advisable when kids are working a karaoke machine, just in case something breaks.
Do you want to try a karaoke party for your kids but don't have your own karaoke machine? These are some of the best options:
Hire a karaoke system (don't forget the microphone and speakers!). This usually costs around $200, including songs, a tv screen, and help with setting up
Buy a karaoke game. This is the best and cheapest option, but you will need to already own a games console.
Buy a portable kids' karaoke player. These are availableat toy stores or birthday party suppliers, and usually for around $100 each. Keep in mind they usually have a limited range of songs. Great for younger kids!
Whether you hire a professional karaoke system, or simply crank up the stereo system and let the kids sing along, you will have plenty of fun and laughter if you host a karaoke party!