Indoor Play Park for Kids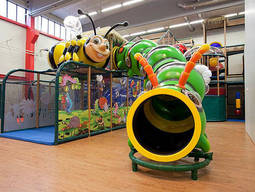 Are your young kids exploding with energy? Do you need a place to help them burn it off? An indoor play park is a quick, affordable way for your children to play around without destroying the house or garden!
An indoor play centre or play park is an indoor area designed for children with obstacles, slides, ball pits, and other fun kids activities.
Indoor centres are often located in shopping malls or inner city areas and can range in size from small enclosed space to miniature indoor amusement parks, with a range of different themed areas and games on offer.
A video of Indoor Play Park for Kids
You're kids will be excited to visit an indoor play park after watching this fun video of children sliding, tumbling, and hopping around!
Information on indoor play parks for kids in new zealand
Is an indoor play park right for for your kids?
An indoor play park can be a great kids activity, particularly on rainy days and when it's too hot or cold to go to the local playground. Even babies and toddlers can enjoy the activities on offer and burn off some energy. Some of the advantages of an indoor play park are that they:
Can be enjoyed in any weather
Give kids a chance to get some exercise
Offers children an opportunity to interact and play with each other
Comply with strict safety standards so your children can play to their hearts' content and not get hurt
Provide loads of fun that your kids will love!
Most kids enjoy time at an indoor play park. For particularly active kids it can be an excellent place to burn off some of that energy! Children who are very sensitive or easily overstimulated may find them overwhelming. There is often a separate area for babies and toddlers to prevent them being accidentally hurt by bigger kids running around.
There are a number of different activities on offer at most indoor play parks such as:
Slides
Tunnels
Ball pits
Rocking horses
Puzzles
Climbing walls
Ladders
Mazes
Most play centres have cafes attached which can provide kid friendly food and coffee for parents. Some indoor play parks are located in shopping malls and allow you to bring your own food and drink.
Most play centres are designed with children aged 3-12 in mind, although there is usually a separate baby play area with soft mats and age appropriate toys. In some of the bigger play parks, the equipment may be dangerous for young toddlers and they could be at risk of injury from rough-playing, older children.
How do I organise a trip to an indoor play park?
Most indoor play parks are open all year round, although some may be closed on public holidays. There is usually an entry fee of around $10-20.Indoor play areas in shopping malls are usually free of charge. Keep in mind you may not be permitted to bring food or drink in from outside, so be prepared for lunch time! Your child will be required to wear socks on the equipment, so pack a spare pair. If you have very young children, you might want to avoid going during shool holidays or just after school finishes for the day, as older children will likely take over the equipment.
If you think your kids could stand an hour or two burning off their extra energy in a safe and fun environment, then use the ActiveActivities directory to find a indoor play park near you!