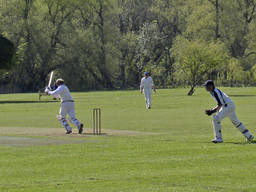 Cricket is an outdoor team sport, usually played in summer, which hails from 16th century England. Generally played on a large grassy oval with a cricket pitch in the centre, it involves two teams of 11 players each. A verson of cricket known as indoor cricket can also be played indoors.
Information on cricket for kids in new zealand
Is cricket right for your kids?
Cricket is a non-contact sport, which makes it fantastic for children, and they can start as young as four years old. As a junior sport, cricket can help children:
Build confidence within a group
Develop hand-eye coordination
Learn on teamwork
Improve fitness levels
Have fun
Get your kids started!
Kanga Cricket, the junior form of cricket, is played by children in grade two or above. Unlike the hard cricket balls used at senior levels, Kanga Cricket leagues use softer balls and a rotation system so everyone has an opportunity to bat, bowl, and field. Most primary schools have a Kanga Cricket program, but even if they do not, there are services provided by community and cricket sponsors such as Milo Cricket. Private cricket lessons, cricket coaching and school holiday cricket camps can be found at minimal cost.
Generally, schools and cricket clubs supply equipment, but it is a great idea to give your child their own cricket bat so they can practise with friends or on their own. As your child progresses, the following equipment may need to be purchased:
A helmet
A groin protector (box)
Pads (Protect the legs when batting)
Cricket balls
Cricket shoes
Cricket batting gloves
Although cricket is a summer activity, indoor cricket can be played all year round.
Parents can find their local cricket club in the ActiveActivities directory.
Stars and events not to be missed!
Watch out for major cricket tournaments like the Hawke Cup and the National Under 18s. New Zealand's top players include Richard Hadlee, Andrew Jones, and Martin Crowe.
International competitions include the World Cup, which invites teams from around the globe to compete in a 50 over-per-side competition, and the new IPL (Indian Premier League), which attracts players and spectators from around the globe for a 6 week, 20 over-per-side bonanza!