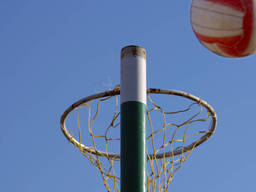 Derived from basketball, netball originated in England in the 1890s, with codified versions of the game appearing in the 1960s. Netball was formally ratified in New Zealand in 1924 by the sport's official governing body, Netball New Zealand. Netball is one of the most popular female recreational sports in the world, with male involvement increasing since the 1980s. It has been estimated that there are as many males playing netball as there are playing Rugby Union.
A video of Netball for Kids
New Zealand's netballers are world champions. Watch this video of NZ's next netball superstars!
Information on netball for kids in new zealand
Is netball right for your kids?
Netball is a team sport in which tactics, strategy, and teamwork are vital in securing victory, making it a great kids activity. Kids learn hand-eye coordination, and increase fitness and stamina levels by playing netball.
Netball is a non-contact sport, with penalties for players who breach this rule.
Netball New Zealand runs programs for girls and boys from the ages of 5 and up. There is also a modified game called Netta's for 8-10 year olds, in which children rotate positions each quarter.
Geting your kids started!
Kids only need the following clothing and equipment to play netball:
A t-shirt and netball skirt or shorts
Running shoes
A ball
A positional bib
Netball is widely played across New Zealand, with netball clubs in most local areas.. Prices can vary, with the average cost being $200 per player, per season. Your local netball sssociations and provide support, and a netball coaches can help with learningthe rules. You can find your local netball grounds by using the ActiveActivities directory.
Tips for success
Practice your stops, starts, and pivots for a better game
Warm and stretch your ankles before playing
Stars and events not to be missed!
The most cherished trophy in international netball is awarded at the World Netball Championships. The New Zealand Netball team, the Silver Ferns, are currently ranked number one in the world and are the Commonwealth Games title-holders. Notable players include Casey Williams and Irene Van Dyk (formerly from South Africa). New Zealand also competes in netball at the Olympic Games.