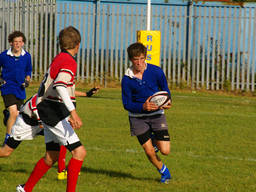 New Zealand's first Rugby league was established in 1992, with players based in Auckland. Rugby league is frequently cited as the toughest, most physically demanding team sport.
A video of Rugby League for Kids
Inspire your kids with this video of Tyree, a little Rugby League superstar!
Information on rugby league for kids in new zealand
Is Rugby League right for your Kids?
The tough, physical nature of Rugby League puts many parents off introducing their child to the sport, but Rugby League players are actually less injury prone than their counterparts in AFL, basketball, and soccer. Modifications such as Mini Footy and Mod Football League, as well as initiatives such as the National Safe Play Code, have helped to ensure kids can play Rugby League safely.
As one of the most popular kids activities, Rugby League confers health and other benefits, including:
Fitness and endurance
Strength
Agility
Team skills
Social skills
Communication skills
Self-discipline
Get your kids started!
The first step to getting your child started in rugby league is to find a setting that will suit your child's needs. This may be a school Rugby League programme, or a Rugby League club, or even just an arrangement where mates get together casually and play.
The
ActiveActivities directory
will help you locate your local
Rugby League clubs
and venues.
Registration for Rugby League clubs is usually in February and may involve a fee of around $80, depending on the location and what is provided. For $80, kids will usually get a jersey, either for the season for to keep. For children up to 12 years old, it may not be necessary to buy any special clothing or shoes. For older children, special boots (which usually cost around $30-120 depending on the brand and supplier) and socks (around $10) may be required.
One piece of equipment your child will need is a mouthguard, to protect their teeth. Ready-to-wear mouthguards are available for as little as $10, but these provide inferior protection and are usually uncomfortable. Custom-made mouthguards are moreexpensive but will doa much better job of protecting your child's teeth and should be far more comfortable. Other protective gear that can be worn are shoulder pads ($50-130 depending on brand, model and supplier) and headgear ($30-100).
If your child wants a ball to practice with, this may cost from $15 to $90, depending on the quality and outlet.
Stars and events not to be missed!
The International Rugby League should not be missed. In 2008, the Kiwis defeated Australia to claim their fist Rugby League World Cup. The most internationally capped player for New Zealand is Ruben Wiki, who retired in 2008. Stacey Jones, Benji Marshall, Mark Graham, and Tawera Nikau top the list of New Zealands most celebrated Rugby League players. There are a number of international Rugby League tournaments coming up, including the Four Nations, the Pacific Cup, and the Atlantic Cup.
Have fun kids and remember to stay safe!