Beach Volleyball for your Kids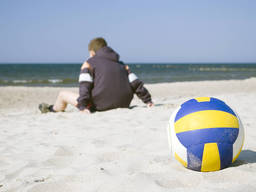 Beach volleyball is a type of volleyball played with a ball and a net on the beach or a sand surface.
Popular during the summer, it's a great form of exercise and it's loads of fun!
A video of Beach Volleyball for your Kids
Kids playing beach volley pretty well!
Information on beach volley for kids in new zealand
Will your kids enjoy Beach Volleyball?
Do your kids like to be at the beach?
If they are active and enjoy sports they might love to play beach volleyball. Kids' activities like beach volleyball give children the chance to get out in the fresh air and meet other kids their own age. Other benefits of playing beach volleyball include:
Extra fitness -playing in sand is more challenging than a solid surface, leading to greater levels of fitness
Lower impact-sand provides a soft surface reducing the chance of injuries
Helps develop team skills
Improved co-ordination and ball skills
Rules are basic and easy for kids to learn
Beach volleyball can be played as a competitive or family sport in teams or one on one. Kids can start taking lessons and participating in informal matches from age 6, and there are opportunities for progression. It's even an Olympic sport!
Don't live near the beach?
Any sandy surface will do once your kids know the basic rules. They can get together with their friends and family and have informal matches and tournaments.
How can you organise Beach Volleyball lessons and matches for your kids?
Even if you live inland you can still play beach volleyball!
There are a number of specially designed sand courts around inland areas which offer Volleyball lessons and teams for kids. If you live in a coastal area there are a number of beach volleyball clubs which set up beach activities for kids, including lessons and matches during the summer. Lessons are usually on weekends and cost around $10 per lesson.
Is your child hooked on volleyball? They might enjoy standard volleyball during the winter months. There are a number of courts for hire as well as formal tuition.
If your kids are playing beach volleyball make sure they have a hat, plenty of sunscreen and water. Wear loose comfortable clothing and bare feet. Make sure they are prepared to get sweaty and have fun!
Check the ActiveActivities directory for more information!