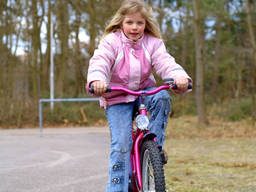 Cycling is a fun activity that both boys and girls can participate in.  In New Zealand there are many ways kids can get involved in cycling both competitively and for leisure.
  The type of competitions they can take part in are:
track cycling, that takes place in a velodrome
road cycling, outdoors on the road
mountain biking and BMX., off road over rough terrain
All have different rules , equipment  and develop different physical strength (track cycling developing speed and muscular tonicity, mountain biking more endurance and agility) but are obviously the same original sport.
A video of Cycling for Kids
Learning to ride a bike can take weeks or even months of practice. But one nonprofit group is offering a class that uses an unusual method to teach kids to ride ... in as little as 15 minutes.
Information on cycling for kids in new zealand
Is cycling for your kids?
Cycling is one of the most popular kids' activities in New Zealand.
Some of its benefits include:
Increased fitness, especially endurance and lower muscular development (thighs, calfs)
Increased mental and self confidence by taking part in competitions and reaching team objectives
Learning to work in a team
Learning sports strategies
A greater appreciation of the outdoors
The enjoyment of competing in races or cycling for leisure with friends
Kids can compete in cycling events and competitions from the age of five or younger depending on the type of cycling it is.
Get your kids started!
Biker clubs provide coaching for children and adults.Many clubs offer coaching in both track and road cycling.Track cycling equipment includes:
a track bike,
a helmet,
Sometimes glasses, to protect from the wind in your eyes
cycling shoes ,
a tight stretchy outfit for competing.
Road cycling equipment includes:
a road bike,
helmet,
road cycling shoes
Kids' fees range from $20 per year to $150.Track cycling can be done all year round. Road racing usually runs from autumn until spring. Don't forget that wet weather can make this sport more dangerous.
Kids as young as 3 can join a mountain biking club.They'll need:
a mountain bike,
gloves,
glasses,
flexible sports shoes
Fees vary around $40 to $80.Mountain biking can be done all year round.
Many BMX clubs have Sprocket Rocket divisions for kids under the age of 8 that focus on developing their skills.To join they'll need a 20 inch or 24 inch BMX bike, gloves, full face helmet, and closed toe shoes.Membership fees range from $30 to $60.
While getting your kids to start a sport, you must always consider the risks that are inherent to this sport and make sure they understand them well.
To be more specific, track cycling is obviously a matter of speed. It is easy to fall and hurt yourself. Make sure your kids have a good quality helmet. Road Cycling is dangerous as you are cycling often beside cars. Make sure you are visible and try to avoid cycling when it is raining and at night, but if you do, make sure you have front and back lights.
If your kids go mountain biking in a forest without supervision, make sure they go in groups and always have a way of contacting you. A first aid kit is a must also.a
Check the ActiveActivities directory for more information!
Stars and events not to be missed!
Hayden Roulston is one of the most well-known cyclists from New Zealand. He won a place on the stage at theTour de France. He has also won medals at the Commonwealth Games and the Olympics. Other well known bikers include Sarah Ulmer and Sarah Walker.
Some of the popular cycling events in New Zealand include:
The Lake Taupo Cycle Challenge
The largest cycling relay event in the country.
Powernet Tour of Southland.
Road Bicycle stage held in the Southland
Christchurch Cycle Race
National Biking Competition
The 2013 BMX World Championships
To be held in Auckland New Zealand
Major international events include:
Tour de France
UCI Track World Championships
UCI Mountain Bike & Trials World Championships
UCI BMX World Championships