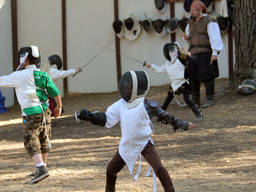 Fencing is a sword sport that originated in France and was later on refined in Spain and Italy. The two most common types of fencing are competitive fencing and Olympic fencing. Classical fencing differs from competitive fencing, which is focused more on a combat or a duel type of arrangement. A nice fencing fact for kids is that competitive fencing is also one of the sports that has been consistently featured in modern Olympics. The main goal and concept of fencing rules is to successfully land touches against your opponent using a blunted fencing sword which is called a foil. Successful touches are made using the tip of the foil in a match. Each match is played within a time limit. Fencing is known to be a good sport that can develop your reflex and speed and will definitely be a fun, yet challenging sport that your kids will enjoy!
Category: Sports
Approximate age to start fencing: 7
Approximate price: 300NZD
Gear/equipment needed and approximate price range: Jacket - 80NZD, gloves - 30NZD, helmet - 75NZD, foil - 150NZD
This activity comprises of: Classes, training
Best period of the year: Anytime
Most appropriate region: Anywhere in New Zealand
School holiday programs available: YES
A video of Fencing for kids
A child showing the basic footwork and techniques of fencing.
Information on Fencing for kids
Is fencing for your kids?
Every parent wants their kid to try out a sport to develop their discipline and their sense of responsibility. The usual kids activities that parents encourage their youngsters to get into are common ball sports. Every sport has a set of different skills to develop. That's why it is advisable for parents to gauge their children first and figure out what sport or other activities for kids will fit their skillset or temperament the most. Sword fighting is not for all kids! Fencing will not only develop your children's reflexes, speed, and sportsmanship, but it will be a great sport to get some movement into them. You can't not move when you are fencing, especially when you are playing competitive fencing. To be more educated on the benefits of fencing, we have prepared a list for parents to read through:
A good way to get your children moving and keep them fit.
Fencing encourages an active lifestyle by your child's physical skills
Fencing and observing fencing rules aids in improving concentration and decision making skills.
Activities for kids such as fencing helps in developing a person's responsibility.
Being a part of a group of people who are into fencing will also develop your social skills and learn to value sportsmanship.
Colleges accept scholarships. A child with a good skillset in fencing will be awarded a sports scholarship in college. They might even have an opportunity to get into competitive fencing later!
More fencing facts for your children in New Zealand
In order for your children to start fencing, they need to have the proper fencing gear and equipment before starting the sport. Your child needs a fencing jacket, fencing mask, fencing glove, and a foil (i.e. fencing sword). These are all necessary for both casual and competitive fencing, and can be purchased at local sports merchandise shops all over New Zealand. Maintenance of their jacket and fencing gloves are as easy as washing and drying your children's clothes.
For their mask, as long as they don't drop it and you wash it for them regularly and dry it when it has contact with moisture, it will last for a long time. Foils need extra care as they are the main equipment used for fencing. Foils have to be free from rust and bends. Rusting can be avoided by storing the foil properly and avoiding any prolonged contact to moisture. Store and separate your foil from your other equipment and fencing gear to prevent bends and rusting.
Get your kids to start fencing!
Are you considering the idea of enrolling your child into fencing lessons? If you are interested in getting your kids into fencing, consider their age and their interest in the sport. The ideal age to start fencing lessons or participation in a fencing club for kids is 7 years old. At this age, your children more or less have an idea of responsibility and they will easily understand the concepts of getting into a sport. Toddlers should skip on fencing as they are too young to be getting into a physical sport involving foils and any sword-like equipment.
They can however focus on other kids activities such as learning a new instrument or other arts and crafts activities. Sword fighting for kids is ideally for children ages 7 years old and up. Fencing lessons for kids are available at fencing organizations or gyms that offer fencing lessons for kids in New Zealand. There are also available fencing clubs for kids that have specialised fencing classes that are segregated by age group. This way, your children will be more comfortable learning how to fence with kids their age.
For more information on fencing and other kids activities, check our ActiveActivities directory to search for organizations and clubs that can teach your children how to fence.