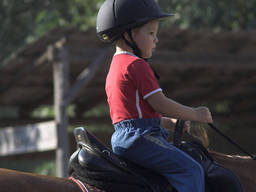 Horse riding is a popular sport in New Zealand, and can be enjoyed for recreation or competition. There are a number of different equestrian activities, including show jumping, dressage, rodeo, and horse shows.
Horse riding has been part of New Zealand culture since European settlement. In many parts of the country horses are used to help workers on outback cattle stations round up livestock.
A video of Horse Riding for Kids
Motivate your children with this video of little Macy riding her beloved horse!
Information on horse riding for kids in new zealand
Is horse riding right for your kids?
Horse riding is a great kids activity - it will help your child develop confidence and make friends, as well as providing them with a fantastic form of exercise. Looking after a horse can also teach your child responsibility. Some additional benefits of horse riding can include:
Improving balance and coordination
Improving physical strength
Improving self esteem
Encouraging new friendships
Promoting a relationship with nature
Horse riding is suitable for children aged six and over. Horse riding can suit children of all abilities.
Get your kids started!
The best way to start your children horse riding is to enroll them in horse riding lessons at a riding school, where qualified instructors can provide training in all aspects of horse riding. Horse riding schools or stables are usually located in country areas or on the outskirts of major towns or cities. Once your child has mastered the basics they'll be ready to go out on riding trails or participate in local horse events.
Horse riding and ownership are highly demanding activities, and before even considering buying a horse for your child you should be 100% sure that they are dedicated to the spot and plan to continue for many years to come. If you do end up buying a horse for your child, you might like to join a local pony club.
Most riding schools will provide your chid with essential equipment such as a bridle, saddle, and hard riding hat. You will need to buy your child a pair of sturdy boots with a low heel and some comfortable leggings or soft pants. A riding crop isn't necessary for beginners.
Horse riding lessons cost around $40-$90 per hour. Before you enroll your child, be sure to check that:
The riding school has public liability insurance
The instructor is properly qualified
Classes aren't overcrowded (six children or fewer is advisable)
Horse riding is a year round activity. All you need to do is search for your local riding school using the ActiveActivities directory and get in touch with them.
Stars and events not to be missed!
There are a number of national equestrian events throughout New Zealand. Don't forget to watch the New Zealand National Horse & Pony Show, an annual rider championship held in Hawkes Bay.
New Zealand has won nine Olympic medals for equestrian events, including three gold medals.
Articles related to your search: