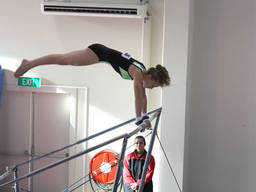 Gymnastics is a series of routines and feats of strength performed on various equipment, utilising strength, agility, flexibility, and balance. Gymnastics was developed in Ancient Greece as a form of exercise.
It suffered a decline until the 19th century, whereupon it was reinstated in the 1896 Olympic Games. New Zealand's first Olympic participation occurred in the 1964 Tokyo games.
Gymnastics is one of the most physically demanding kids activities!
A video of Gymnastics for Kids
This tutorial on doing the splits will help your child learn proper stretching techniques and tips to make it more fun
Information on gymnastics for kids in new zealand
Is gymnastics right for your kids?
Gymnastics can be enjoyed by children as young as two years. Because gymnastics is an indoor activity, conducted in a gymnasium, it is suitable to take part in all year round. Kids will learn floor, beam, trampoline, vault, and bar routines, Other apparatus and strength training is introduced at later levels.
Performances are marked out of 10. Attaining a perfect 10 is nearly impossible, with only a handful of gymnasts able to claim this honour.
Routines range from E (easiest, able to be performed by juniors and amateurs) to A (most difficult, performed at an international standard). Routines with more A exercises have a greater scoring capacity, but are the most challenging.
Gymnasts largely perform alone and are judged individually, but their scores contribute to their team's success.
Gymnastics holds a range of benefits for children and young adults by improving:
Agility
Balance and precision
Coordination
Strength
Endurance, and flexibility
Attention and focus (including academically)
Gymnasts compete on the following apparatus:
Boys and girls:
Boys:
Pommel horse
Roman rings
Parallel bars
High bar
Girls:
Uneven parallel bars
Balance beam
Rhythmic floor routines
Junior gymnastics lessons are readily available through schools and clubs all over New Zealand. Lessons are usually held weekly and charged monthly, with prices averaging $60 per month. Check the ActiveActivities directory to find details on your local gymnastics club
Get started
Children at lower levels don't need any special clothing or equipment, apart from a leotard or shorts and a t-shirt. Certain training can be performed at home, in parks, or on the beach with adult supervision. At later levels the following equipment may need to be purchased:
Hand grips
Leggings and tracksuit
Tips for success
Warm up properly before training
Ask your coach for appropriate exercises to practice at home
Stars and events not to be missed!
Whilst there are plenty of local and international competitions, the largest event in the gymnastics calendar is the Olympic Games. Unfortunately, New Zealand is yet to win a medal for gymnastics, but homegrown gymnasts such as David Phillips and Tanya Moss have achieved great success at the Commonwealth games.