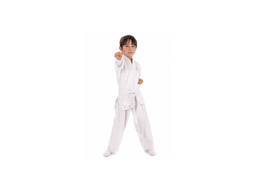 Judo means "the gentle way" and this form of martial art which originated in Japan incorporates throwing techniques with certain core values.
It will be of interest for parents who are looking for well rounded kids? activities!
A video of Judo for Kids
Kids during a Judo training.
Information on judo for kids in new zealand
Will your kids enjoy Judo?
Would you like your kids to take part in kids' activities that can improve their self confidence, aid their moral development and help them get fit at the same time?
You might want to consider Judo. If your kids like to watch wrestling on the TV, they could enjoy trying out some wrestling type moves themselves in a safe environment. Judo usually takes place a mat or 'tatami' so it is fairly minimal impact and could suit kids who are a bit more timid and reluctant to fall.
So why enrol your kids in judo?
There are a number of potential benefits including:
Development of self discipline
Self esteem through having the chance to strive for belts and reach goals
Development of mental focus and concentration
Helps with emotional maturity and development of positive character traits
Helps to strengthen muscles and improve agility
Social -good chance for kids to make friends
Kids can start judo from as early as 3 or 4 but many schools start formal judo training at around 6 years old. A lot depends on the individual child and their level of maturity, so it is worth having a chat to the instructors at your chosen school before enrolling your child in any classes.
Concerned about injuries? As with most martial arts, one of the first things children learn at Judo is how to roll and fall in a way that is designed to reduce the risk of injury. It's a valuable skill to have -once it becomes a habit it could come in handy in a range of situations!
How can you organise Judo lessons and matches for your kids?
Judo activities for kids can be found at judo clubs which are located around the country. Judo lessons run on a per term basis and generally cost around $100 - $200 per term. Through a judo academy, kids can work up from basic sparring techniques to different levels of belts and competitions, which can give them a great sense of achievement and help increase their self confidence.
All mats and safety equipment are usually provided by the judo school, but parents will need to purchase uniforms for their kids to wear while training and competing. Judo activities for kids can be great fun and a wonderful outlet for any excess tension and energy!
Check the ActiveActivities directory for more information!