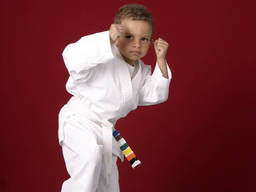 Tae kwon do originated from Korea and is now one of the most popular worldwide martial arts.
It has evolved into a form of self defence and even an Olympic level game!
A video of Taekwondo for Kids
Martial arts Tai Kwon Do, patterns, training & background. Chris Martin also shows us some cool tricks and extreme martial arts moves
Information on taekwondo for kids in new zealand
Will your kids enjoy Taekwondo?
Does your child have energy to burn?
They might like the opportunity to let off some steam while learning self defence and having fun. As one of the most competitive forms of martial arts, Taekwondo allows kids the chance to participate in different activities and develop their physical skills and fitness. Other benefits include:
Development of personal qualities such as respect, self confidence and self discipline
Increased physical strength
Increased cardiovascular fitness
Good way to build self esteem through achieving goals
Helps improve kids' concentration
Taekwondo is a well rounded kids' activity that is suited to many different personality types. Shy kids can benefit from increased confidence, and outgoing or active kids may find the discipline and mental focus useful in other areas of their lives.
While Taekwondo may be considered one of the more physical activities for kids, it's relatively safe when supervised by a qualified and experienced instructor. Children are taught how to 'fall' in a way that minimises the risk of injury and aggression is discouraged.
Not sure what age to start? Most formal taekwondo lessons start around age 6 but some kids can start doing taekwondo related kids' activities at a slightly earlier age. Taekwondo is a sport that is suitable for both boys and girls.
How can you organise Taekwondo lessons and matches for your kids?
Taekwondo lessons are usually undertaken with an instructor at a taekwondo school. Programs run during term times with special classes and camps during school holidays for kids who want to spend extra time training.
Children generally start with the basic principles of taekwondo.Basic moves and games for kids progress to attaining different levels or 'belts' over time, which can give them a great sense of accomplishment and pride. Some protection is necessary and so protective gear is required, and this can usually be supplied by the school. Uniforms will be needed at an additional cost.
If your kids are looking for a fun way to get fit which includes much more than just a physical workout, consider giving taekwondo a go!
Check the ActiveActivities directory for more information!