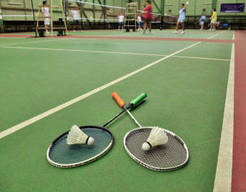 Badminton is played on a special court using a racquet and a shuttlecock or birdie.
Badminton is a fast paced sport combining speed and agility with a number of technical strokes. Great for fitness and fun and one of the activities for kids that can be enjoyed in the backyard during school holidays and weekends!
A video of Badminton for Kids
Kids playing badminton in the backyard.
Information on badminton for kids in new zealand
Will your kids enjoy Badminton?
Are your kids bored with tennis?
Do they want to try something a little different? Badminton is another racquet sport which is played on a court with a net and it might appeal to kids who are looking for an alternative to tennis. Kids can play as singles or doubles, and choose to either play on a proper indoor court or informally in the backyard or at the beach.
As well as being fun, playing badminton can help kids to:
Increase their fitness
Improve hand eye co-ordination
Develop tactical thinking
Make new friends
Increase self esteem
If kids are playing in the backyard it is a good idea to make sure there is enough space, and any trip hazards are removed from the area. Badminton can be enjoyed by kids of any age who are able to grip and swing a racquet, but formal badminton tuition generally begins at around 4 or 5 years of age. It's an activity that the entire family can play so it presents a great opportunity for parents to spend highly enjoyable quality time with children.
How can you organise Badminton lessons and matches for your kids?
Do you want to get your kids started with badminton? There are a few options for badminton kids' activities including joining a badminton club or hiring a court. Formal tuition is probably a good idea at the start, so kids have a basic understanding of the different strokes which include:
High serve
Low serve
Flick serve
Drive serve
Smash
Drop shots
Clears
Other things it is important to learn include footwork, correct grip and the rules of the game. Fun badminton activities for kids include 'wild birdies,' 'blanket badminton' and net play. Badminton has been played by families in backyards around the world for decades. Playing badminton can be fast and fun so why not let your kids give it a try?
Check the ActiveActivities directory for more information!