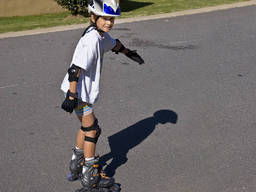 Rollerskating has been around since the 18th century and is popular as a form of transportation, a sport and a type of performance art.
With a number of different forms and styles, not to mention retro appeal there is plenty to love on rollerskating!
A video of Rollerskating for Kids
Kids learing to rollerskate in a kids park.
Information on rollerskating for kids in south africa
Will your kids enjoy Rollerskating?
Are you looking for activities for kids that incorporate fun and great exercise?
If they enjoy a challenge and don't mind a fall or two, why not try rollerskating? Whether your kids are theatrical, competitive or just like the sensation of speed, rollerskating may have something to offer them. The benefits of rollerskating can include:
Improved fitness, particularly cardiovascular
Improved balance
Cheap - just purchase or hire skates and you're on your way!
Versatile - lots of different types of skating to try
Can be a great mode of transportation
It's an outdoor and indoor activity
Social - organised events such as roller discos allow kids to make new friends
There are two main types of rollerskates:
Quad skates (traditional roller boots with 4 wheels and a brake on the front - good for young kids and beginners)
In-line skates or roller blades (row of wheels down the middle of the skate and you stop by leaning back - good for speed)
Rollerskating can be a great activity for kids from 3 years and up. It is important that kids wear appropriate safety gear when rollerskating including pads, knee guards and a helmet. Boots and safety gear can be bought or hired for a low fee. As far as kids' activities go, rollerskating is quite inexpensive.
How can you organise Rollerskating lessons and activities for your kids?
Are you looking for somewhere your kids can learn to rollerskate and participate in rollerskating activities with supervision?
As well as specialised skate clubs many leisure centres offer rollerskating lessons and events such as roller discos, roller derbys and sporting events. Lessons usually cost around $10-$20 per session and casual visits to a skating rink is around $5-$10 a session.
Once kids have a good level of control over their skates, they might like to take to the ramp or skate park, or get involved in events such as roller hockey or inline speed skating. With so many different rollerskating activities to choose from, your child will never get bored.
Check the ActiveActivities directory for more information!