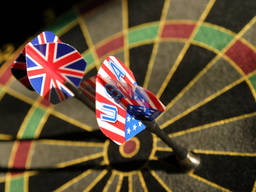 It has been suggested that the game of darts can be traced back to medieval times. The game of darts has gone through several changes since it was invented, and modern dart games now make use of various materials that are safe for kids to use. Dart games are fun and educational, making them an ideal activity for your kids
Category:Sports
Approximate age to start playing darts: 2
Approximate price: FREE
Gear/equipment needed and approximate price range: Dart board ($20-$200)
This activity comprises of: Dart throwing
Best period of the year: Year-Round
School holiday programs available: YES
A video of Darts for kids
This kid's dart skills are impressive!
Information on darts for kids
Is darts right for your kids?
If you're looking for educational games for kids that are fun and challenging, you might like to consider darts. Having your own dart board at home to let your kids play with can offer several benefits for your children, including:
Increased concentration
Improved stress management skills
Improved team building skills
Improved maths skills
The New Zealand Darts Council (NZDC) is the first national darts organisation founded in 1955. The NZDC was later one of the founders members of the WDF and dart players from the country take part in the BDO World Championship in Lakeside.
Let your kids join a darts club and allow them to compete. In order to learn more about the dart clubs near you, check out the ActiveActivities directory.
Famous dart players from New Zealand include Gordon Allpress who competed in the 1980 and 1981 Embassay BDO World Darts Championships. Another famous darts player from New Zealand is Alan Bolton, who won the 2007 New Zealand National Championships and won a place in the 2008 PDC World Darts Championship.
Get your kids to start playing darts!
Darts is an affordable kids activity, requiring only a dart board and darts. However, traditional darts often have pointed edges that are not ideal for kids and toddlers to use. Thankfully, there are kid-friendly options in the market. Some options include:
Velcro dart boards (the safest option and ideal for toddlers)
Magnetic dart boards (offer a similar feel to traditional darts and are more exciting for older kids)
Plastic dart boards (still have sharp tips, so make sure you supervise)
Electronic dart boards (the most expensive options – can cost between $50 and $200)
If you have extra space in your house, you might also think about introducing your kids to the game of snooker, which is another example of an exciting activity for kids that requires skill and logic. Your games room will be much more appealing with these fixtures!
Start playing darts with your kids today!