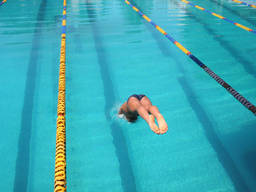 For fun and fitness why not get your kids to your local aquatic centre this summer? Aquatic centres, sometimes known as leisure centres, are common throughout New Zealand and they provide an opportunity for parents and kids to enjoy a vast array of water based activities for kids from swimming lessons to pool parties. Aquatic centres usually feature a swimming pool as their main attraction and are often a venue for sporting activities such as swimming carnivals and water polo.
A video of Aquatic Centres for Kids
Adelaide's $80 million aquatic centre offers an incredible fun area for kids!
Information on aquatic centres for kids in new zealand
Will Your Kids Enjoy a Visit to an Aquatic Centre?
Whether you are looking for a way to tire your kids out on a rainy day at home, or want them to be the next Ian Thorpe, a visit to the aquatic centre might well be the answer. Getting involved in swimming and other water based kids activities at aquatic centres may have a number of benefits including:
Fun - most kids love to splash about in the water. Some aquatic centres have water slides and wave machines as an added element of fun.
Fitness - swimming is great exercise and can improve strength and cardiovascular health.
Safety - learning to swim is an important part of reducing drowning hazards for young children.
Social skills - swimming either as part of a team or splashing around with other kids is a great way to make friends.
Swimming lessons can start when babies are around 6 months old and continue through to adulthood. Kids who are proficient swimmers can get involved in various sports including water polo and swimming races. Whether your child is a competitive athlete or just likes to have a splash around, they will enjoy a trip to the aquatic centre.
Most aquatic centres have a café or food kiosk on site or nearby, as well as showers and changing facilities. Although there are lifeguards beside the pool, very young children or those who aren't confident swimmers need to be carefully supervised. Many aquatic centres have a toddler pool where little ones can enjoy the water under your supervision, without worrying about bigger kids swamping them.
How to Organise a Visit to an Aquatic Centre with Your Kids
Aquatic centres are generally open all year round although some are closed on public holidays. Entry is usually fairly inexpensive, between $10 for adults, and most centres offer family discounts and multiple visit passes. Swimming lessons are available at most aquatic centres at a cost of around $10 for a half hour group class.
Check the ActiveActivities directory for more information!
When taking your kids swimming, always make sure they have a change of clothes and a towel. Inflatable swimming aids can add to the enjoyment of the pool but must not be used as a substitute for constant supervision.