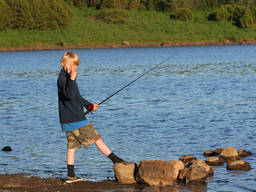 With New Zealand's vast coastline and many rivers, fishing is a great option for most families.
Angling clubs allow keen fishers to meet and organise competitions, as well as learn tips to improve technique. Angling as a competitive sport has been around since the 1960s, when the first national sport fishing associations were formed, and has since become a popular recreational activity and competitive sport across the country.
A video of Angling Clubs for Kids
Be inspired by this home video of a family fishing trip!
Information on angling clubs for kids in new zealand
Will your kids enjoy angling?
As a kids activity angling has many benefits, including providing a chance for bonding, relaxing, and developing an interest in the environment. Kids will learn about the various species of freshwater and seawater fish, how to prepare their equipment, the correct safety procedures for fishing, and many other useful skills. Angling requires a certain amount of patience and concentration, so it is most suited to children who have a reasonable attention span and are happy to sit quietly for extended periods of time. Angling is a great outdoor activity for city children as it gives them an opportunity to get out into nature.
How to get your kids started in angling
Fishing clubs usually start lessons for children as young as three.. Angling can be a year round sport but the species of fish caught will vary according to season. Fishing lessons for young children usually include information about the different species of fish and conservation of the aquatic environment. Most angling clubs cater to all different types of angling so whatever you are interested in your local club will probably be able to help.
Angling clubs are located all over New Zealand, in both city and coastal regions. Angling is a very popular activity and it's very easy to find angling clubs and lessons. Although you can take your children fishing by yourself (providing you have the appropriate fishing permits and a licence), angling clubs offer many benefits including:
Ability to hire equipment
Organized trips to fishing locations
Weigh stations so you can document your catch
The opportunity to socialise with fellow anglers
Involvement in tournaments and competitions
Access to quality tuition to help improve technique
Always make sure your children are supervised when near the water, and be sure to dress them appropriately with sunscreen and a hat. If you're fishing in a protected environment always follow the guidelines, particularly when it comes to the size and quantity of fish you're allowed to catch.
Angling clubs generally charge around $10 - $50 per year for membership, but classes and activities are usually extra. You can usually join at any time throughout the year. All equipment can usually be hired through your club. When angling, particularly with children, it is always a good idea to take plenty of food, water, and weather appropriate clothing. Insect repellent is essential!
If your kids want to try angling, why not try the ActiveActivities directory directory for a family friendly angling club near you?