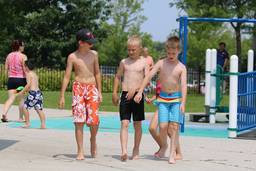 Aqua fun parks are a great way to cool off and have fun for the entire family. An aqua fun park is a type of amusement park which provides water-based kids' activities including: water slides, fountains, wave machines, and whirlpools. Water parks have been a popular attraction worldwide since the first one was built in the late 1800s. In New Zealand the two biggest water parks are Splash Planet and Waterworld, located in Hastings and Hamilton, respectively. Smaller aqua fun parks are located around the country.
Information on aqua fun parks for kids in new zealand
Is an aqua fun park right for your kids and family?
Aqua fun parks are a popular family activity because they are fun for kids of all ages. Babies and toddlers can splash around in the kids' pool, while older children can get their thrills on the fast slides and water-based rides. Water parks are a great form of exercise and can help kids improve their water confidence and swimming ability. Best of all they are fun, with lots of adrenaline pumping slides and games for kids of all ages.
Waterslide parks are a type of theme park, and are best enjoyed by children who are confident in water and like to be active. There are usually plenty of kids activities to be found, including a selection of different rides, from high speed water rides to gentler kids' slides and whirlpools. Other attractions include wave pools, waterfalls, and even swim up movie screens.
Most aqua fun parks have canteens and cafes, where you can buy drinks, snacks, and meals, and the bigger ones also have souvenir shops where you can buy memorabilia and any essentials you may have forgotten to bring with you.
Some of the rides at water parks may be unsuitable for younger children, and many have age and height restrictions. Children need to be supervised at all times near the water, particularly if they are not confident swimmers.
How to organise a trip to an aqua fun park
Aqua fun parks are usually open all year round, although some may be closed on public holidays so it is always worth checking first. Entry fees to parks are around $30 per day but there are plenty of discounts available online. Longer passes and multi park passes are a good way to save money if you are planning to visit more than one of a group of theme parks.
When you are planning to visit an aqua fun park you will need to bring swimming gear, towels, and plenty of sunscreen. During school holidays the crowds can be overwhelming and queues for rides could be lengthy. Some water parks allow you to bring your own food and others do not, so always check before you leave.
If you think the kids will enjoy splashing around, then try the ActiveActivities directory for an aqua fun park near you!
Articles related to your search: