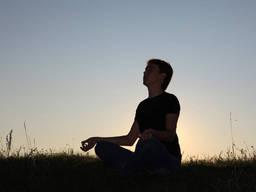 Calm your kids down with a session of soothing yoga!
Yoga originated in India and comprises meditation and breathing along with a series of body positions to help focus and calm the mind. It is also a great way to get fit and improve your kids' posture!
A video of Yoga For Kids
Through yoga, storytelling and beautiful footage of eagles in the wild, Flying Eagle creatively teaches children the qualities of the eagle - strength, focus and caring for their offspring. Yoga is great for your kids to learn how to stay peaceful and calm.
Information about Yoga For Kids
Will Your Kids Enjoy Doing Yoga?
Do your kids spend too much time slumped on the lounge? Are they stressed, anxious or hyperactive? They might benefit from trying yoga.
Practicing yoga postures is believed to have a number of positive effects on kids including:
Improved posture – particularly helpful for kids who spend their time slumped in front of the TV or hunched over a computer
Relaxation – children's yoga can help kids who are stressed out calm down, find emotional balance and better handle feelings of failure, cope with fear and learn techniques for stress reduction
Academic benefits – yoga can improve concentration, promote healthy brain development and enhance learning for kids. The self-discipline involved in practising yoga can also lead to better work habits
Physical benefits – yoga is a challenging workout that involves stretching and done regular, it may improve strength, flexibility and general health and fitness
Kids of any age can try yoga!
There are even yoga classes for babies so whatever age your child is, there's no excuse not to give it a try. Children who prefer activities that are more 'rough and tumble' might prefer a sport but Yoga is already quite physically demanding, and will make your child sweat a lot (do not forget to ensure they are sufficiently hydrated before a yoga class).
How Can You Organise Yoga Lessons and Events for Your Kids?
Kids' yoga classes are available all over New Zealand. Check in our ActiveActivities Directory to find your closest yoga school. A yoga class will usually cost around $10-$20 per session and often run during school term times. Book early to make sure your child doesn't miss out!
What should your child wear for a yoga class?
Comfortable loose fitting clothing is ideal. Make sure long hair is tied back and don't worry about shoes as yoga is done in bare feet. Your child might need their own mat or you may be able to hire one from your yoga school.
If you can't find a good yoga school in your area, your child might enjoy similar kids' activities like meditation, or other posture based activities like tai chi which can also have beneficial effects and may help kids to calm down and focus their minds. For anxious kids, yoga can almost be a form of therapy, teaching them techniques to handle their anxieties and improve their self-confidence.
For calmer, more serene kids, give yoga a try!