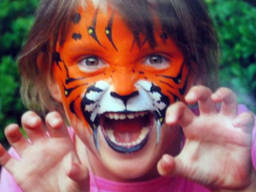 Face painting allows you and your kids to create fun designs that look great, and wash off without any fuss. Face painting has become a popular party activity in New Zealand, and there are lots of options, from profession to DIY
Information on face painting for kids in new zealand
Is face painting the right activity for your kid's party?
Face painting is a fun, creative activity that the majority of children will enjoy. It's one of the best party ideas and an excellent kids activity to add to your list of potential school holiday plans. Face painting is a great entertainment option because it is:
Affordable
Fun
Creative
Imaginative and artistic
A bonding activity for parents and children, or chidren and their friends
A great way for kids to express their individuality
Proper face paints are safe for use on children of all ages. Kids under three might find it difficult to sit still so make sure you have some simple designs up your sleeve if you are hosting a toddler birthday party! Older children, however, will enjoy having their face painted with more complicated designs, like their favourite animal or cartoon character.
Get ready to face paint!
There are a couple of ways to arrange a face painting party. Some people choose to hire entertainers to set up a booth or a table to paint the kids faces, while others prefer to do it themselves.
Professional face painters can be found in our ActiveActivities directory and usually charge around $100 an hour. The amount of time you need depends on the size of party. A professional face painter can usually paint around 10 faces per hour.
Another option is to do your own face painting. If you want to do this it is important that the paint you choose is safe for use on skin. You can buy specially made face paints from your local toy store or party supplier, or try searching online.
Here are a few tips to keep in mind if you are planning to try your hand at face painting:
Use good quality, hypoallergenic paints that can be easily washed off with a sponge and cold water
Do an allergy test beforehand by placing a small amount of paint on your child's face
Use a sponge rather than a brush to cover larger surface areas
Wait for the first layer to dry before applying other layers
Do not use too much paint or it won't dry quickly
Consider buying a stencil for more complicated designs
You might also like to try a face painting class; there are a number of places that teach face painting if you are looking to learn professional techniques or would like more practice.