Inflatable Equipment for Kids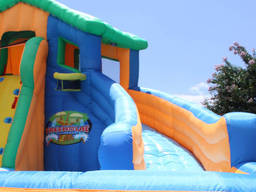 Looking for water slides, jumping castles, tubes, and other outdoor activities for your next kids' party? Inflatable equipment is easy to use and will provide your guests with hours of fun!
A video of Inflatable Equipment for Kids
Your kids will be excited to play around on inflatable equipment at their next party after watching these children have mountains of fun!
Information on inflatable equipment for kids in new zealand
Is inflatable equipment right for your next kids' party?
Do your kids love to climb, bounce and slide? They will probably love inflatable equipment. If you have a backyard, why not consider hiring a bouncing castle for your next kids' event? Or, if you have a pool, you could get an inflatable water slide! Hiring inflatable equipment for kids' birthday parties, or other parties or events where kids' activities are needed, is an effective and easy way to keep the little ones occupied for hours at a time!
Most inflatable equipment is suitable for children of any age, although very small babies may be at risk of getting injured if there are older kids playing. Supervision by a responsible adult is essential at all times. Make sure kids take their shoes off, and for safety reasons don't let them perform somersaults or climb up the sides of equipment.
Slides and jumping castles have a tendency to hype kids up so be prepared for lots of noise and chaos!
What kind of inflatable equipment can you hire?
Not sure what inflatable equipment would be best for your kids' party? Consider the size of your backyard and number of guests when making your decision. There are a number of different inflatable play equipment options, including:
Jumping castles - great for all ages and varying in size. They usually cost around $200 for 4 hours.
Inflatable slides - usually part of bouncy castles, they usually cost around $280 for 4 hours.
Inflatable obstacle courses - these have a series of challenges for kids to complete, such as tunnels. They usually cost around $250 for 4 hours.
Water slides - great for hot days, but probably not suitable for babies and toddlers. These cost around $250 for 4 hours.
Ball pits - provide hours of fun for kids to jump and throw balls around. They usually cost around $150 for 2 hours.
Inflatable equipment can keep kids entertained and having fun for hours - meaning parents can relax and enjoy their child's special day!