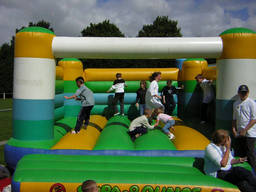 Jumping castles are a great party idea if you have a lot of space and an active child. Fun and tiring, a bouncing castle will help your guests burn off the excess calories from too much party food!
A video of Jumping Castles for Kids
Your kids will be excited to have their own jumping castle party after watching this video of children bouncing around!
Information on jumping castles for kids in new zealand
Is a jumping castle right for your next kids' party?
Is your son or daughter always on the move? If they love rough and tumble kids' activities they will probably enjoy a jumping castle at their party. Children who are nervous or timid might find bouncy castles a bit frightening or overwhelming, so consider a quieter party activity for them.
Is your child a cartoon or movie fanatic? With a number of themes and designs available, you can add to the enjoyment by choosing your child's favourite characters or themes. Options include:
Cartoon and movie character inflatables
Sports inflatables,with hoops and nets
Gymnastic inflatables, with obstacles
Playhouse inflatables, with ball pits and slides
Indoor inflatables, which are the perfect size for your living room
Jumping castles are usually suitable for children up to 13 years, but it is important that they are supervised by an adult. Other safety rules usually include no somersaults or climbing up the sides.
How to organise a jumping castle?
Not sure where you can hire a jumping castle? Check online to find an operator in your area. Jumping castles usually costs around $250 for 4 hours. Don't forget to make sure you have enough space in your backyard and allow time to set up before the party starts.
Does your child have a birthday in the middle of winter? Jumping castles are best for sunny days with little or no rain. Many operators will cancel if it is excessively windy and pouring with rain so make sure you have a back-up plan in case of bad weather.
Jumping castles combine fun and fitness and can be an excellent activity for birthday parties and other events where activities for kids are needed.
Why not bounce the idea around?