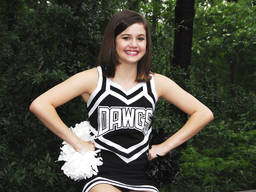 Cheerleading is a great way to participate in the excitement of sporting events!
Cheerleading is a group activity in which athletes perform routines aimed at entertaining and encouraging crowds to show their support.
Cheerleading has been around since the late 1800s and in recent years has developed into a competitive sport in its own right.
It is very popular in America and is fast growing in popularity as a kids activity in New Zealand
Information on cheerleading for kids in new zealand
Is cheerleading right for your kids?
Cheerleading is an extremely popular kids activities among young girls, and it can be a great way to improve physical fitness and make friends. It can also build confidence and help with balance and co-ordination. As cheerleading involves choreographed routines, it can also teach discipline and precision. Cheerleading is most suited to outgoing kids who enjoy dance and music and are, or would like to be, active and physically fit.
How to get your kids started as cheerleaders!
Children as young as four can start taking cheerleading lessons and there are a number of cheerleading clubs across the country that offer competitions, recreational squads, and classes. Many dance centres also have a cheerleading class for those who are looking to get involved on a non-professional basis.
Competitive cheerleading is divided into state, regional, and national divisions and is categorized by age. The main cheerleading academy in New Zealand is the All Star Cheerleaders New Zealand. The academy offers summer camps and school holiday programmes. There are a number of smaller local schools that offer lessons: a quick check in our ActiveActivities directory should help locate one in your area.
If your child is interested in cheerleading there are a few things they will need in order to get started:
Suitable clothing - dancewear is fine at first, but if they start competing they will require uniforms and costumes
Pom-poms may be required for certain routines
Suitable shoes
Learning at a cheerleading academy costs around $13-$20 a lesson and fees are usually paid on a per-term basis. Although lessons are usually fairly inexpensive, it is important to be aware that the cost of outfits and costumes can add up. Registration is usually open at the end of the year for the following year and enrolments are completed by the start of term.
Don't miss these stars and events!
The New Zealand Cheerleading National Championship takes place in Auckland in June, with teams from all over the country competing for first place. The New Zealand All Star Ponyz won the American Showcase Championship in 2011.
If you think cheerleading will appeal to your kids, why not get started now?