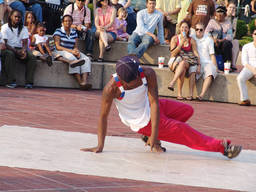 Are your kids born performers? If they love to dance and perform death defying stunts they might like to channel their energy into hip hop dance routines. Hip hop is a modern style of dance involving a series of moves set to hip hop songs. It's often called urban or street dance and originated on the streets of America in the 1970s. Our kids quickly took a like to the style!
A video of Hip Hop Dance for Kids
Hip Hop is a modern dance that requires fitness and dancing skills, and usually can be performed as a group.
Information on hip hop dance for kids in new zealand
Will Your Kids Enjoy Hip Hop Dance?
For cool kids who like to be on the edge, hip hop dance can be a great form of exercise and has many other benefits including:
Improved strength and fitness through regular exercise
Enhanced social skills from meeting other children and learning as a group
Better co-ordination from learning to perform complicated moves
Fun - hip hop is great fun for kids of all ages who like to move to the beat!

Hip hop dance is one of the more energetic kids activities for kids, and may be ideal for those who enjoy performing and like to challenge themselves. The edgy urban image often associated with hip hop and break dance can give kids a boost to their self esteem and help them relax in social situations.

How to Organise Hip Hop Dance Lessons for Your Kids!

Formal Hip Hop lessons start around age 5 for beginners, with students progressing from simple dance steps up to more complex moves such as breaking, locking, popping and krumping. There are a number of dance schools in New Zealand that offer a hip hop dance class. Most kids begin learning in a studio or dance academy and progress to street dance competitions if they feel inclined.

Check the ActiveActivities directory for more information!

Hip hop dance lessons vary in cost but you can usually expect to pay around $15-$20 for a group session with a qualified teacher.

Specific dancewear generally includes loose fitting clothing and comfortable running shoes. Make sure your child's shoes are clean - it's a good idea to purchase specific running shoes for indoor use only so you don't mark the floor of the studio. If your child progresses to the stage where they perform in shows or want to attend auditions there may be specific costumes you'll need to purchase.

Don't Miss These Hip Hop Dance Stars and Events!

New Zealand is a major force in the international hip hop dance scene, having won two silver medals and three silver medals at the World Hip Hop Dance Championships. Street Dance New Zealand (SDNZ) holds annual dance championships.