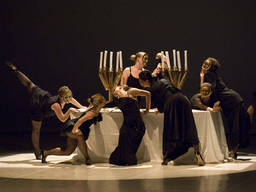 Do your kids like to dance? If they enjoy movement but find traditional ballet too restrictive, they might enjoy modern dance instead. Sometimes known as contemporary dance, it originated in the early 20th century and has increased in popularity ever since. Modern dance has been performed on stages in New Zealand since 1977 and encompasses a wide range of styles and techniques.
A video of Modern Dance for Kids
Kindergarteners performing Modern Dance. It is for everyone, and a great way to have fun!
Information on modern dance for kids in new zealand
Will Your Kids Enjoy Modern Dance?
If your children love to dance and express themselves through music modern dance lessons might be perfect for them. Modern dance focuses on expressing emotion and telling stories through the medium of dance and can be a great activity for kids who like to perform but are not suited to the structured approach of more traditional dance styles.
Modern dance lessons are one of the greatest kids activities and have a number of benefits for kids including:
Fitness - increased cardiovascular fitness and muscle strength
Discipline - even though modern dance is less disciplined than other forms of dance, kids will still need to practice and learn to follow structured routines
Improved onfidence
Creativity - dance can be great for kids who like to express themselves
Social Skills - opportunity to make friends at dance class
Dancing of any kind might suit your kids if they are active and enjoy movement.
How to Organise Modern Dance Lessons for Your Kids
There are a number of different forms of modern dance including:
Jazz - performed to a variety of modern music where children are encouraged to improvise their own steps. Suitable from age 3.
Hip-hop - set of moves performed to hip hop music. Lessons usually start at age 5.
Breakdance - street dancing with an element of acrobatics. Best for older children and more experienced dancers.
Tap - using special shoes to tap out a rhythm. Children can start to learn at around age 5.
The best way to find dance schools near you is do a search of our ActiveActivities directory or look online for a modern dance academy in your area. Lessons usually take place in a group in a dance studio with a qualified modern dance teacher. Kids who want to pursue dance further can enter competitions, take auditions for dance companies and work towards exams.
The cost of dance lessons varies but as a guide, you can expect to pay around $200 per term or roughly $15 - $20 per lesson. Appropriate dancewear will also need to be purchased at an extra cost.
Don't Miss These Modern Dance Stars and Events!
Helaina Keeley is one of New Zealand's best known modern dancers. She has danced with a number of different companies. The New Zealand School of Dance is one of the best known contemporary dance companies and they hold performances in a variety of locations throughout the country.