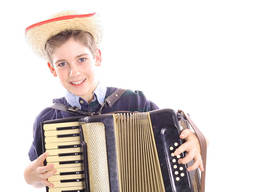 Try something different with this unique musical instrument!
An accordion is a hand held musical instrument which makes music by squeezing bellows and forcing air out through a reed. It is often heard in Eastern European folk music. Give your child a cultural as well as a musical experience with the accordion!
A video of Accordion For Kids
Learn the basics of Accordion. You'll see that it is amazingly fun and not that difficult if your kids start young. Let give them a try!
Information about Accordion For Kids
Is playing theAccordion a great activity for your kid(s)?
Does your child love music but doesn't seem interested in more conventional instruments such as the piano or violin? They might like to learn to play the accordion! Musical activities for kids have been shown to have many benefits academically. A few great things about the accordion are:
Portable and light – great for anyone who doesn't have space in their house for a grand piano!
Versatile – many different styles of music use the accordion which means there's plenty of variation for your kid
Develops confidence – learning to perform a piece of music can give kids a sense of accomplishment and pride
Teaches musical appreciation and understanding – learning to read music is a useful skill which can help kids in the future if they want to branch out and try a different musical instrument.
Helps kids with their co-ordination – playing the accordion requires kids to push, pull and manipulate the keyboard at the same time as reading the sheet music. This can help with focus and multitasking skills.
Not sure what age you should start your child? Around age 6 is usually considered a good age to start your child in a music class as they will probably have developed the co-ordination and strength to play properly.
Get your kid to start learning the Accordion!
Are you unsure where to find an accordion teacher or school? There are a few professional accordion instructors or schools in New Zealand that teach kids and lessons usually start at around $60 an hour for private tuition.To find your local accordion classes search the ActiveActivities directory
No accordion teacher or class in your area? If your kid is really keen to learn the accordion, another option is to buy an accordion and take an online course. Online courses are generally much cheaper than tuition and your child can learn about technique, tone, musical theory and other useful information to get them playing.
There are a number of different types of accordion's including piano accordion, bass accordion and button accordion. It's important when choosing an instrument for your child that it is an appropriate size and shape and they are comfortable using it.
If your child is looking for music based kids' activities that can help them stand out from the crowd, give the accordion a try!