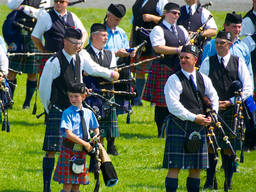 Bagpipes are musical instruments that use enclosed reeds fed from a constant reservoir of air in the form of a bag. Bagpipe history can be traced back to the Middle East several centuries before Christ. In modern times, the name bagpipe became synonymous to the Great Highland Bagpipe, which is the most popular type of bagpipe. Bagpipes are traditionally used to provide music for dances and funerals. Get your outdoorsy kids to play this loud instrument!
Category: Performing Arts
Approximate age to start playing bagpipes:5
Approximate price: $40-$50 /lesson
Gear/equipment needed and approximate price range: Junior bagpipes ($40-$60), practice chanter ($40), practice chanter reed ($13-$25)
This activity comprises of: Performing, competing, watching bagpipe events
Best period of the year: Spring Time
School holiday programs available: YES
A video of Bagpipe for kids
A young boy practices playing the bagpipe
Information on Bagpipe for kids
Is playing the bagpipe for your kids?
Do your kids love music? Get your kids to learn how to play bagpipes! Bagpipes are popular around Europe, in the Persian Gulf, and also in Northern Africa. Bagpipes require greater air volume and higher air pressure than other instruments in the wind family, but they produce a loud and brilliant sound most suitable for outdoor settings.
Why should your kids play the bagpipe?
Bagpipe music provides an immersive lesson in culture and history Bagpipe songs play significant roles in various cultures. The Highland Cathedral bagpipes song is a popular anthem in Scottish culture, and is a great song for your kids to start with. Great Highland bagpipes were also used on the battlefield. If you want to provide your kids with an opportunity to truly immerse themselves in history and culture, learning the instrument is a great way to get them started!
Get your kids to learn an instrument that adds a unique flair to songs If your kids are already into playing music, learning the bagpipe can help them produce sounds that other instruments normally can't. The instrument commonly used in Scottish music, but in modern days, they are used by bands and other artists to produce one-of-a-kind songs.
Offer your kids opportunities to test their discipline Learning to play the bagpipe is challenging for most people. This will provide your kids with an opportunity to test their patience and discipline. Bagpipes aren't instruments for the faint-hearted.
If your kids do not find the bagpipe an attractive instrument, they can choose a different wind instrument like flutes, trumpets, or aerophones.
Get your kids to start playing bagpipes!
Before learning how to play the bagpipe, its essential to have the right instrument. There are various types of bagpipes to choose from, its essential to do your research before you buy a bagpipe. There are special types of bagpipe for kids, so make sure to look out for them.
Types of bagpipes:
Highland bagpipes

The Highland bagpipe is the most commonly played bagpipe which gained widespread recognition through its usage in the British military and in pipe bands throughout the world.

Uilleann bagpipes

Uilleann bagpipes, or Irish bagpipes, are notably quieter and have a more pleasant tone than the Scottish Highland Pipes. Because of this, uilleann pipes are suitable for indoor settings.

Junior bagpipes

A bagpipe practice chanter is ideal for kids who want to start learning the instrument. They are affordable and quiet and can be made out of plastic or African Blackwood. They come in two sizes: regular and long, and many younger children like toddlers ideally start with the shorter version. Pipes for kids can cost at around $75 and $175 if they are made out of plastic, and can cost between $175 to $300 if made out of African Blackwood. In case your instrument needs its reed to be replaced, there are bagpipe chanter reeds available in the market. Consistent maintenance of the reed ensures a better quality of sound.

Electronic bagpipes

These are powered by electricity and they copy the tone and playing style of bagpipes.
It's more ideal to find bagpipes for rent when your kids are only starting to learn, so that you don't invest money in an expensive instrument that your kids might want to stop playing in the future. There are two internationally renowned brands: McCallum Bagpipes and Henderson Bagpipes. There are special considerations to be made when choosing which to buy. Remember to read reviews and to consult professionals before buying a set of new pipes.
If you're looking for kids activities that highlight playing the bagpipe in New Zealand, try letting your kids join or watch the New Zealand Pipe Band Championships. Furthermore, New Zealand offers activities for kids that promote the playing of bagpipes, including contests and summer school classes. To ensure that your kids excel in the instrument, you may want to help them find bagpipe bands that they can join, in order for them to find peers to play with.
For most people, learning how to play a bagpipe can be complicated because there are limited resources online and in music stores. That's why it's ideal to enrol your kids in music classes and lessons, or get them under an experienced bagpipe teacher to ensure their growth. You can usually find teachers that offer bagpipe lessons for kids online, but remember to choose one that has significant playing and teaching experience, or preferably one that has a certificate, to ensure that your children learn from someone who truly knows his or her craft. Check the ActiveActivities directory for more information about bagpipe teachers.
Get your kids to play timeless music with the bagpipe!