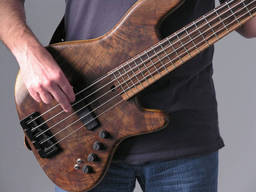 Let your kids channel their inner rock star with the bass guitar!
The bass guitar is a type of guitar that is designed to play the lower notes in a piece of music. The most common one usually four strings and a longer neck, while the usual guitars have 6. Bass guitarists are a feature of most bands and although they are often in the background, their contribution to the performance as a whole is vitally important!
A video of Bass Guitar For Kids
This video will teach you a couple bass guitar lines to play over a funky rock groove in the key of E.
Information about Bass Guitar For Kids
Will Your Kids Enjoy Playing the Bass Guitar?
Do your kids love rock music or jazz? If they want to develop their sense of rhythm while having fun, the bass guitar could be a great way for them to start. Very similar to an electric guitar but with (usually) four strings rather than six, the bass guitar supports the other instruments in a band. For kids who like to perform but don't feel they have to be centre stage, the bass guitar could provide them with the outlet they need.
Other benefits might include:
Good development of rhythm
Improved team skills and co-operation with others
Great way to make friends
Teaches basic guitar skills and chord patterns that can be transferred to other types of guitar
Improves co-ordination and hand and finger flexibility
Does your child want to be the centre of attention at all times? They might prefer a more high profile instrument such as the electric guitar.
Don't want to fill your house with amplifiers and cables? There are a few different types of bass guitar, including a bass electric guitar, acoustic bass guitar and a semi acoustic bass. All are suitable for children to start to learn from around age 5 or when they are able to hold a short scale instrument and push down the strings to play the chords.
How Can You Organise Bass Guitar Lessons and Events for Your Kids?
Search the ActiveActivities directory to find a local music teacher. Bass guitar lessons generally cost around $60 an hour for private tuition and beginners group classes around $35 per session. Once your child has mastered the basics of tuning and playing, they can get involved in other musical kids' activities such as bands and performances.
Not sure what type of bass guitar to buy? There are a number of different sizes to suit children of all ages. Renting can be a useful option if you're not sure if the bass guitar is right for your child.
If your child is interested in playing music with others and loves the guitar, the bass guitar might be the perfect activity for them!