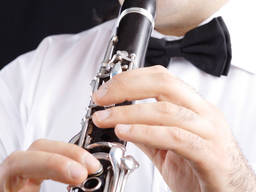 If your child is keen to learn a musical instrument, try the clarinet!
The clarinet is a woodwind instrument that originated in Germany in the 17th century. A standard fixture in school bands across the country, the clarinet is easy and fun to play and a great way to start your kids on a musical instrument!
A video of Clarinet For Kids
Learn the basics of Clarinet in this video, and see how fun it could be for your kids to start learning this classical instrument.
Information about Clarinet For Kids
Will Your Kids Enjoy Playing the Clarinet?
Are your kids interested in music? Do they want to learn an instrument but aren't quite sure where to start? The clarinet might be perfect for them. A single reed instrument, the clarinet is used in a number of different musical styles including classical and jazz. Playing the clarinet involves blowing into a mouthpiece and pressing different keys to make the notes.
Some of the advantages of learning the clarinet include:
It is fairly straightforward to learn and can give a child a sense of accomplishment.
Versatile - can be played as part of an orchestra or band, or solo depending on your child's inclination and level of skill.
Regular musical practice can teach self discipline which can carry over into academic activities.
Is your child a budding rock star? Their ideal kids' activities might be learning the guitar or drums. Children who love a classical music concerto would be well suited to becoming a clarinettist.
How Can You Organise Clarinet Lessons and Events for Your Kids?
Private clarinet lessons generally cost around $60 an hour. You can find your nearest clarinet teacher by checking on the ActiveActivities directory or ask at your local music academy. You will need to purchase a clarinet for your child to learn on which start at around $500 for a new instrument and $250 for a second hand one. Often clarinets are made from granadilla wood, but when you are choosing an instrument for your child, plastic may be more practical and easy to care for. Look for a clarinet with a good tone and that your child is comfortable with. Your child might be interested in progressing to the bass clarinet once they have a bit of knowledge and experience.
Is your child is interested in joining a band? Their school is a good place to start. Many schools offer musical activities for kids as part of their extracurricular programme and this can be a great way for your child to make some musically minded friends. If your child just wants to play for fun, you can download music sheets for them to play at home.
Whether they want to play Mozart or Gershwin, in a band or solo, the clarinet could be just the instrument for your kids!