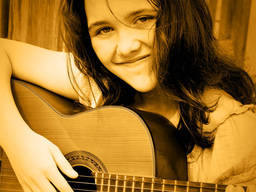 In 1840 an Italian violin maker named Panormo moved to New Zealand, and guitars began surfacing in the islands around this time. From the 1950s on, various styles of guitarhave became popular in New Zealand. These styles include classical, rock, and flamenco.
A video of Guitar for Kids
Your children will learn heaps from this online lesson, the first in a great series designed to teach kids the basics
Information on guitar for kids in new zealand
Is guitar right for your kids?
Learning the guitar can improve your child's life by:
Enriching them through music
Improving their school performance - research shows positive associations between music education and academic performance.
Boosting their self-esteem and creativity
Establishing an early interest in music
Providing a fun outlet
Get your kids started!
Some guitar schools and teachers accept children as young as three, but the perfect age to start is usually around six or seven years old.
The first thing to decide is what sort of guitar your child will learn. The main choices are:
Acoustic guitar with nylon strings

Easy on little fingers
Best for classical, jazz, flamenco, folk

Acoustic guitar without steel strings

Harder on fingers
Best for pop, pop-rock, country

Electric guitar

Somewhat easier to play
Easier to tune
Minimal effort needed on strings
Best for rock, metal, funk, alternative
Requires amplifier, guitar cable, guitar pick

Bass guitar

Can be acoustic or electric but usually electric
Often used as a backing instrument but also as solo in jazz, fusion, Latin, funk, rock and metal
Be careful here, some children find that the Bass Guitar isn't as exciting as they anticipated
Here are some things to consider before you purchase a guitar:
Try before you buy. Don't buy a guitar over the internet unless your child has tried the same model first.
Make sure the guitar you buy is the right size for your child. Guitars come in small and half sizes for smaller children.
Have someone who knows how to play the guitar with you when purchasing.
There are many ways to introduce your child to the guitar, including:
Books, videos, online lessons

Chords, tablatures, playing with fingers or pick or strumming
Can be useful supplement to formal lessons
Relatively cheap or even free

One on one lessons

Best for kids
Usual cost around $30 to $60 an hour, depending on the teacher and location

Group lessons

Offered by Yamaha (electric guitar) and others over semester
Can work out cheaper but large (around $500) up-front payment
Here are some tips for finding a good guitar teacher:
Check the ActiveActivities directory for guitar teachers near you
Check the reviews on the ActiveActivities directory
Ask parents of budding guitarists
See if you can get references from past students and/or their parents
Take advantage of "first lesson free" policies. A lot of guitar teachers will offer the first lesson for free, and this is a great way to determine if a guitar teacher is suited to your child
Stars and events not to be missed!
Most schools, academies, and private teachers put on concerts, so find out when these are on and attend. You can also watch the New Zealand Gold Guitar Awards. Watching others perform can be quite motivating and instructive and can help kids in judging their own performance.
Being able to take part in performances is what makes guitar one of the greatest kids activities!