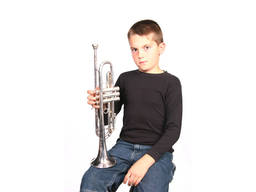 Looking for a loud, gutsy instrument that allows your child to make their mark in the school band?
The trumpet is a wind instrument which has been around since before medieval times. By blowing through the mouthpiece and pressing different valves, your child can enjoy making music in a number of different styles!
A video of Trumpet For Kids
This sample trumpet lesson covers the very first steps in playing the trumpet, starting with how to hold the trumpet, set the embouchure, buzz the lips, and make a tone. You will understand that is not going to be difficult for your kids to start learning this instrument!
Information about Trumpet For Kids
Will Your Kids Enjoy Playing the Trumpet?
Does your child love to make noise? They might love to play the trumpet. The trumpet features in a number of different music styles including classical, jazz, symphony orchestra music and swing so whatever music your child likes, they will probably be able to learn how to play it. As a member of the brass family, the trumpet has a distinctive sound and can be played in an orchestra or solo.
How can playing the trumpet enhance your child's development?
Teaches them to read music and improves their musical ear
Playing a musical instrument can help teach self discipline
Wind instruments may help increase the lung capacity of the player
Playing in a band can be social and fun and help kids make new friends
The trumpet can help kids develop a wider appreciation for different styles of music.
Is your child accident prone? Trumpets are usually pretty hardwearing and not easy to break which might make them a good choice. Added to this, they generally don't take up much space so as long as you don't mind a bit of noise, they can be ideal for families living in smaller spaces.
Trumpet lessons often start around age 8-10 but kids younger than that can always play on a toy trumpet to see if they like it. When buying an instrument there are a few different shapes and sizes so make sure you get one that suits your child and that has a good tone. If you are buying a second hand trumpet, it's a good idea to check the tubes and valves for signs of corrosion as this can make a big different to the sound of the instrument.
How Can You Organise Trumpet Lessons and Events for Your Kids?
Trumpet lessons and other musical kids' activities including bands and concerts can be found at your local music school or academy or you can find a private music teacher for your child. Private music tuition usually starts at around $60 an hour. Search the ActiveActivities directory to find you local trumpet classes and trumpet teachers.
Not sure if the trumpet will be right for your child? What about a different wind instrument? There are a number of similar instruments including the piccolo trumpet, bass trumpet, bb trumpet, c trumpet, horn, trombone and tuba which should give your child plenty to choose from!