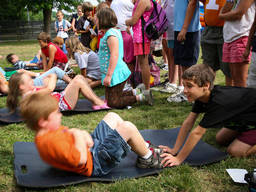 If your kids love gymnastics and dancing, try calisthenics!
Calisthenics is a series of movements often set to music and sometimes using equipment. Kids that enjoy, sport, music, dance, acting, gymnastics, marching or just having fun in a team environment all love calisthenics. A great kids activity designed to improve kids fitness and agility!
A video of Calisthenics For Kids
Watch this video to know what to teach overall fitness and health to kids; learn how to motivate kids in calisthenics, for functional fitness training. Your kids will stay fit all year long!
Information about Calisthenics For Kids
Will Your Kids Enjoy Doing Calisthenics?
Does your son or daughter love to move? If they are always on the go and like music they might love this activity.
Calisthenics is a series of exercises that:
Can help improve kids strength and aerobic fitness
Can help kids who would benefit from shedding a bit of excess body weight
I a great way to teach discipline, creativity and confidence in kids
Is an unusual way for kids to learn the basics of movement to music in preparation for more formal dance training
Encourages, team work and friendships
Does your child love rough contact sports?
They might find Calisthenics a bit tame. Calisthenics is great for kids who like gentle movements and enjoy exercising in a non-competitive way. However, there a numerous callisthenics competitions available for the more competitive children. When the movements are performed with upbeat music, callisthenics movements can be a great form of aerobic exercise.
Think calisthenics would be perfect for your child?
They can usually start around age 3 although it is important to be careful they don't do too much strength training while their bodies are still developing as this can lead to problems later on. It's probably best to pick a class that emphasises the creative and movement side at this age rather than making your pre-schooler do endless repetitions of pull-ups and lunges.
How Can You Organise Calisthenics Lessons for Your Kids?
Calisthenics is popular across New Zealand and many primary schools include it as part of their physical education curriculum or offer optional classes during lunchtime and after school. Another option is finding a calisthenics school in your area. It is a competitive sport and there are many calisthenics clubs located around the country that meet regularly during the year to perform routines at competitions. To find your closest club, check on our ActiveActivities Directory or with your state calisthenics association.
Do you want to have a go at home?
There are a number of standard exercises that form part of calisthenics training including:
Jumping jacks
Sit ups
Crunches
Push-ups
Squats
Calf raises
Dips
Flutter kicks
Practising these at home can be a great form of aerobic exercise and a fun way for the whole family to get fitter.
Calisthenics is one of the few kids' activities that combine dance, gymnastics and sport!